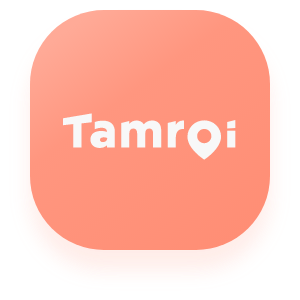 TERMS OF SERVICE
Update : November 15, 2019
Terms of Service ; These terms and conditions of service ("Terms of Service") govern your use of the TAMROI mobile application (the "App") and the wireless device that has been approved (the "Device," and together with the App, collectively, the "Service") sold and made available by Globetech Co., Ltd ("Company"). Your compliance with these Terms of Service is a condition to your use of the Service. If you do not agree to be bound by the Terms of Service, promptly exit the App and refrain from any and all future use of the App and the Device. Please consult our Privacy Policy for a description of our privacy practices and policies, including a description of what data is collected in connection with your use of the Service and how such data is used.
1. The Service
Company provides the Service on an "as is" and "as available" basis to lawful owners of a new, original Device (hereinafter "you"). You may not use the Service unless you lawfully own a Device and you may only use Devices that you own or otherwise have been given permission to use whenever you use the Service. Company reserves the right to improve and change the Service and any element thereof at any time, at Company's sole discretion
2. App License
In order to use the Service, you will need to download and install the App. Company hereby grants you a non-exclusive, non-transferable, revocable, limited license to use the App and Company software related to the Service solely on devices that you own or manage. You represent and warrant to us that you have the right to install and operate the App on such devices you are using. You may not remove, obscure, modify or disable any proprietary notices of Company on any part of the Service. You may not use the Service for any purpose that is illegal or potentially harmful to another party, including Company. You may not sell, sublicense, assign or otherwise transfer the Service to any third party for any reason.
3. Map Service
4. Service Provider
You acknowledge that the terms of any agreement with your respective mobile network provider ("Mobile Provider") will continue to apply when using the Service with your smartphone or other mobile device. Consequently, you may be charged by your Mobile Provider, or any applicable third parties, for access to its/their network connection services while you are accessing the App. You accept responsibility for any such charges that arise.
 You are responsible for taking precautions as necessary to protect yourself or your computer system from viruses, worms, Trojan horses, and any other code of a destructive or disruptive nature which may interfere or destroy contents of the system.
 You must not send viruses, worms, Trojan horses or any other code of a destructive or disruptive nature which may destroy our Services.
 You must not use our Services to defame the nation, commit slander or vilification.
 You must not send or post inappropriate words, pornography, defamation, harassment, violence, or threat to any third party, including other illegal contents.
5. App / Software Update
You agree that Company may automatically deliver such updates to you as part of the Service, and you shall receive and install them as required, and you acknowledge and agree that the Service or portions thereof may not properly operate should you fail to do so. You further agree that all updates will be deemed part of the Service and will be subject to these Terms of Service.
6. Security, Restrictions and App Access
You are prohibited from violating or attempting to violate the security of the Service, including, without limitation, (a) accessing data not intended for such user or logging onto a server or an account which the user is not authorized to access; or (b) attempting to probe, scan or test the vulnerability of a system or network or to breach security or authentication measures without proper authorization; or (c) accessing or using a Device, the App or any portion thereof without authorization or in a way that is unintended, in violation of these Terms of Service or in violation of applicable law. Unintended uses, including using the Service to track anything or anyone that is not a child, adult, pet or asset may have you incur additional charges by the Company as well as your access to the Service being revoked.
You may not, and you agree that you will not permit any third party to, decompile, disassemble, or reverse engineer any object code that is part of the App, or attempt to reverse engineer, reconstruct, identify, or discover any source code of any such software, the structure, sequence, or organization of such source code or any algorithms, methods, or models contained therein.
Violations of security may result in civil or criminal liability. Company will investigate occurrences that may involve such violations and may involve, and cooperate with, law enforcement authorities in prosecuting users who are involved in such violations. You agree not to use any device, software or routine to interfere or attempt to interfere with the proper working of any Device, the App or any activity being conducted on the App.
In order to use the Service, you must register and install the App. Access to the Service is limited requiring a user ID and password, or validated and authenticated email sign-in. You agree that all information about you (or your child, pet or loved one) that you provide to access the Service, and during use of the Service, is truthful, and you agree not to use any aliases or other means to mask your or your child's, loved one's or pet's true identity. You agree that any email accounts used in connection with your access to and use of the Service belong to you and not any other person.
You agree to protect the confidentiality of your user ID and password, and not to share or disclose your user ID or password to any third party. You agree that you are fully responsible for all activity occurring under your user ID. If you suspect any unauthorized use of your user ID or your account, you should change your password and/or contact Company immediately.
Contact Us
GlobeTech Company Limited
Address: 16 fl. Sathorn Thani Tower, 92/44 North Sathorn Rd., Silom, Bangrak, Bangkok 10500
Phone: 02-266-9940
Email: nostrahotline@cdg.co.th
Website: www.tamroi.co.th